LAURUS
Murano glass table sculpture
"Laurus" is an exquisite Murano glass table sculpture that artfully captures the essence of a laurel leaf. Throughout history, the laurel leaf has remained an undisputed symbol of triumph, victory and success. In Greco-Roman culture, it embodies notions of conquest, peace, renewal, glory and honor.
This table sculpture offers an ideal opportunity to personalize your living spaces. It is also a perfect addition to sophisticated wedding registries, or serves as an elegant corporate gift that can be customized with your own logo, adding a distinctive touch.
Both the gilded versions "Elios" and "Gaia" and the multicolored version "Giunone" perfectly harmonize with a diverse array of environments, from rustic to elegant, from classic to contemporary settings. This laurel leaf-inspired Murano glass sculpture is an exclusive and valuable piece of art crafted by skilled hands. The base, finely decorated with a dark anthracite grey varnish, provides sturdy vertical support to the delicate glass sculpture.
Each product is a testament to meticulous craftsmanship, being both unique and exclusive. Created and signed by our skilled glass masters, it comes with a certificate ensuring the quality and authenticity of the creation. In the world of artisanal production, minor variations in shape, color and size from the provided image are intrinsic. These subtle differences and irregularities in design, shape and color, as well as small air bubbles, are not defects, but rather hallmarks of the quality that defines our products.
DIMENSIONS
ELIOS – GAIA version
length 29 cm | 11 ½ in
width 20 cm | 7 ¾ in
height 46 cm | 18 in
GIUNONE version
length 26 cm | 10 ¼ in
width 21 cm | 8 ¼ in
height 52 cm | 20 ½ in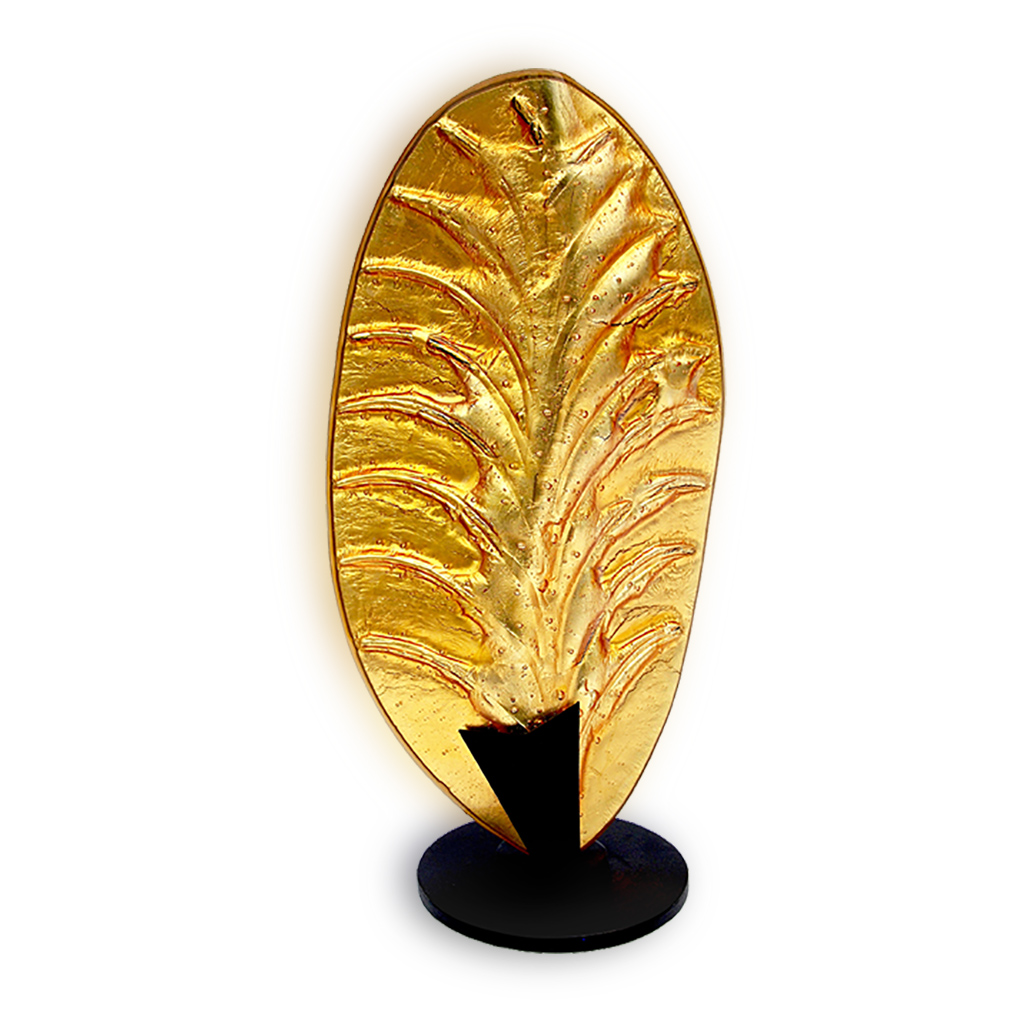 Gaia
Giunone
Elios
Giunone
Do you need large quantities? Do you want it in different colors or sizes? Do you want a custom order?
As a manufacturer, we create custom objects with different decorations, colors or shapes according to your requirements.
Would you like to buy these artworks from our "centerpieces" collection in our partners' online stores?
Take a look at……