NOGUCHI
Murano glass design centerpiece
"Noguchi" is a black and ivory Murano glass holder with an innovative shape. Noguchi was an American artist and designer, best known for a piece of modern furniture: the coffee table. Inspired by this masterpiece, Spanish designers Miquel Mariné and Carles Muro designed this centerpiece with three hollow supports, originally intended as a fruit holder.
The three hollows leave the object open to a variety of uses: they can hold fruit of different shapes and sizes or reflect the way a certain type of fruit is eaten. For example, cherries: the larger container could hold the freshly picked fruit, the medium one the water for washing them and the small one the stones. Besides the fruit, the three holders could hold other things like flowers, candies, jewelry, objects, etc.
The size allows for easy maneuverability and makes the centerpiece similar to other usual objects that can be found at the dining table, such as baskets and trays.
The asymmetrical and balanced composition with the use of Murano glass rods arranged in alternating colors reinforces the topographic condition of the object. Made entirely by hand, it is an elegant object that will fit well in any modern interior.
Each product is handmade, unique and exclusive! It is created and signed by our glass master and is accompanied by a certificate of guarantee for the quality and authenticity of the product. In handicraft production, every glass object may be slightly different in shape, color and size from the image below. Any small differences and irregularities in design, shape and color, as well as small air bubbles, are not flaws, but a sign of our products quality.
DIMENSIONS
MAXI version
length 70 cm | 27 ½ in
width 50 cm | 19 ¾ in
height 16 cm | 6 ¼ in
LARGE version
length 55 cm | 21 ¾ in
width 35 cm | 13 ¾ in
height 12 cm | 4 ¾ in
Noguchi Classic
Noguchi Classic
Noguchi Checker
Noguchi Checker
Noguchi detail
Noguchi Classic
Noguchi Checker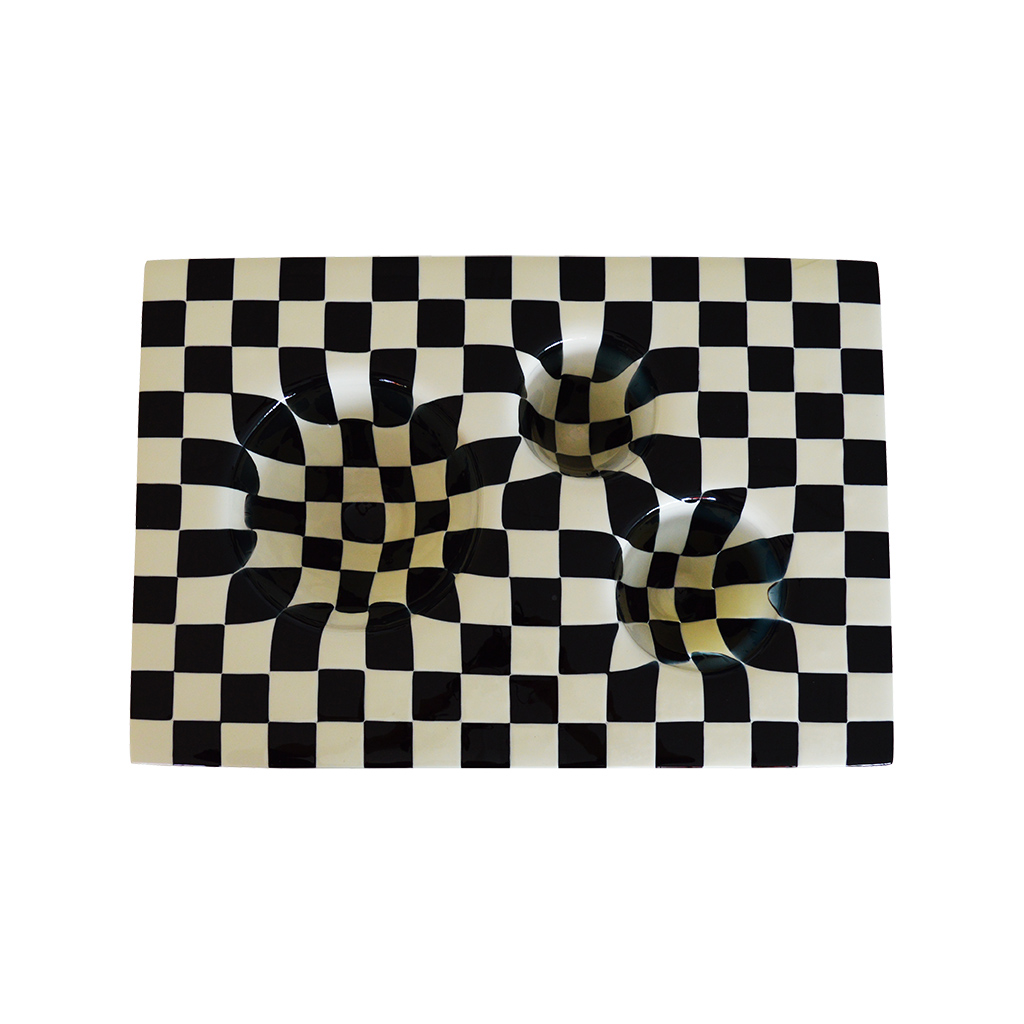 Noguchi Checker
Do you need large quantities? Do you want it in different colors or sizes? Do you want a custom order?
As a manufacturer, we create custom objects with different decorations, colors or shapes according to your requirements.
Would you like to buy these artworks from our "centerpieces" collection in our partners' online stores?
Take a look at……